Doc's Book Shelf
---

Welcome to my online bookshelf - On this page, I have created a "short list" of my favorite books on the topics that I feel are essential to internetworking technology, learning, e-learning, instructional design, user experience, information architecture, and knowledge management. Click on annotated links to recommended books that are available online for free or ordering through Amazon.com. Please turn off your pop-up blocker if a new window does not appear when you click on any links.

---
Internetworking Technology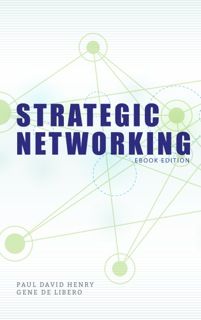 Strategic Networking: eBook Edition - this ebook describes the nature of internetworking technology (Internet, LAN, WAN, etc.), as well as its concepts, associated skills, services, and organizations that support and define it. It explores the relationship between networks as an infrastructure, the change brought about by them as an innovation, and the organizational and social issues that arise.
Available on Amazon at:
Strategic Networking: eBook Edition on Amazon.
Author page on Amazon:
Computer Book Review of original edition: "Smart, comprehensive yet concise overview to computer networking, from the LAN to WAN to the Internet. Perfect for the non-technical manager who needs to grasp the high-level concepts, as well as the computer professional who needs to keep abreast of state-of-the-art technology."
Learning and E-Learning

How People Learn: Brain, Mind, Experience, and School - the Expanded Edition (2000) is a National Academy Press book by the Commission on Behavioral and Social Sciences and Education. It is available free in an online version as well as with ordering information for printed versions. This book provides an excellent introduction to the problems and solutions to learning with technology. Includes practical discussion of research findings from the learning sciences. Though the focus is on public education, it also has implications for adult learning.
Evaluating E-Learning - provides an essential introduction to why and how to evaluate your e-learning efforts. Includes tips and techniques for measuring responses, learning, performance, and results.
Selling E-Learning - helpful for justifying the use of e-learning for your organization, and it can also benefit how you market e-learning products and services. Includes business case and template, checklists, and exercises.
E-Learning: Strategies for Delivering Knowledge in the Digital Age - provides an introduction and overview of e-learning with an emphasis on strategies for knowledge management and an organizational culture for learning.
Designing Web-Based Training: How to Teach Anyone Anything Anywhere Anytime - a basic, but solid conceptual introduction to developing and using Web-based training that applies sound instructional design.
Blending E-Learning - provides an introduction to the need and methods for blending learning strategies and technologies. Includes business cases for blended e-learning and tips on needs assessment, evaluation, and development.
Building Learning Communities in Cyberspace: Effective Strategies for the Online Classroom - this book focuses on the important teaching and learning aspects of building online learning communities. The focus is on learner-centered social interaction. Useful examples of collaborative learning using dialogue and discussion within online communities are provided.

---
Instructional Design

Rapid Instructional Design: Learning ID Fast and Right (Essential Knowledge Resource)
- Instructional designers and training personnel alike will find this an ideal reference to designing effective instruction in an efficient manner.
e-Learning by Design
- a best-practices case-based William Horton text for educators and trainers who want to design e-learning in a systematic, yet rapid manner.
e-Learning and the Science of Instruction: Proven Guidelines for Consumers and Designers of Multimedia Learning
- e-learning instructional design guidelines based on empirical research findings written in a clear and concise manner by Ruth Colvin Clark.
Efficiency in Learning: Evidence-Based Guidelines to Manage Cognitive Load
- Ruth Colvin Clark provides instructional design guidelines for onsite and online learning that draw on research findings in managing cognitive load.
Developing Technical Training: A Structured Approach for Developing Classroom and Computer-based Instructional Materials
- this classic text by Ruth Colvin Clark provides instructional design guidelines using the systematic process of Instructional Systems Design (ISD) to address the unique learning needs for facts, concepts, processes, procedures, and principles.

---
User Experience

The Elements of User Experience: User-Centered Design for the Web - this is a guide to understanding and mapping the user experience written by the author of a popular system of diagramming the elements of a visual vocabulary for describing information architecture and interaction design.
Designing Web Usability : The Practice of Simplicity - Jakob Nielson, a usability expert provides a survey driven view of Web usability focusing on the (Web) page, content, site, and intranet design.
Observing the User Experience: A Practitioner's Guide to User Research - a comprehensive guide to planning and conducting user experience research that is vital to the user-centered information architecture process and well-designed Web sites.
Online Communities: Designing Usability and Supporting Sociability - describes how to build communities based on two vital elements: ease of use (usability) and useful interactions (sociability). Supported by relevant research citations, the author shows how these building blocks can form the foundation of successful and lasting online communities.

---
Information Architecture

Information Architecture: An Emerging 21st Century Profession - provides an overview and advice for entering the field of Information Architecture, including its history and its future, the knowledge and skills that are needed to practice it, advice for education and finding schools that focus on this field, as well as identifying and describing commerical areas in which Information Architects work.
Information Architecture for the World Wide Web: Designing Large-Scale Web Sites - a comprehensive view of information architecture from usability and design perspectives and how that applies to complex and/or large Web sites.
Information Architecture: Blueprints for the Web - Despite the impresssion that the title of this book might make, this is a guide to information architecture that dispels design rules and myths and unveils a practical approach based on the nature of the Web medium and the typical experiences of the user. The author is a founder of the popular boxes and arrows IA Web site (on which a more detailed review of this book can be found).

---
Knowledge Management

Knowledge Management in Theory and Practice
- an ideal text for courses or self-study. It provides a comprehensive introduction to the theory and practice of KM, focusing on the major conceptions and examples of the KM cycle, KM models, KM capture and codification, KM sharing and communities of practice, KM application, organizational culture, KM tools, KM strategy and metrics, the KM team and roles, and future challenges for KM. An excellent required text for courses and seminars.
Knowledge Management
- a handy pocketbook of KM concepts, examples, and glossary. The ideal companion for quick reference and on-the-road learning. An excellent recommended text for courses and seminars.
Creating the Discipline of Knowledge Management: The Latest in University Research
- an indispensible guide to the history and development of KM as an academic and professional discipline and a thorough overview of the research in this field. Program House recommends this text for courses, seminars, and for student and professional researchers who want to explore aspects of KM in their studies.

---
Updated as of August 8, 2014
© 1996-2014 by Program House - All Rights Reserved